We provide our clients with
HIGH QUALITY BIODEGRADABLE PLATES & BOWLS
& an outstanding professional service
ROUND FIBRE PLATES
All of our Biodegradable Fibre Plates are much more rigid than conventional paper plates.
Since they are made from recycled waste sugar cane fibres (also known as 'sugar bagasse') they are eco-friendlier too!
Available in 7" (side/dessert) and 9" and 10" dinner plate sizes.
100% Biodegradable & Compostable.
SPECIALITY FIBRE PLATES
We also offer Disposable 2 and 3 Compartment Plates which are great for serving tapas and portion control.
Our 10" and 12" Disposable Biodegradable Oval Plates enable you to serve your meals with a bit more flair.
We also have our unique 12.5" Disposable Biodegradable Pizza Plates which are perfect for delicious wood-fired pizzas!
BIODEGRADABLE BOWLS
Our Biodegradable Tableware, made from recycled waste sugar cane fibres (sugar bagasse) also includes Biodegradable Bowls and Dishes.
Available in a 12oz/340ml, a 16oz/460ml size and a larger 24oz/680ml size, our Biodegradable Bowls are a great way to serve a variety of hot and cold dishes.
100% Biodegradable & Compostable.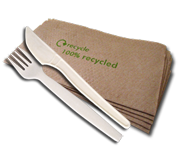 ECO ACCESSORIES
Essential Biodegradable Plate Accessories to complete your eco catering operation.
Our extensive eco-friendly catering disposables range includes Eco Cutlery, Recycled Paper Napkins and Carrier Bags as well as Biodegradable Cups.
All of our products are selected to help reduce the negative environmental impacts associated with catering.
View Product Range & Prices

View Product Range & Prices

View Product Range & Prices

View Product Range & Prices

Visit our
online store
to place an order. Quote
BIODEGRADABLEPLATES10
to get a 10% Discount!
---
RECENT NEWS
NEW Pizza Plate for 2016 — November 2015
It's been a very busy year for us at Green Gate Bio Packaging and with 2016 just around the corner we're excited to announce that we will be adding many new products to our range this coming year. One of the most exciting items is our NEW 10.5" Biodegradable Pizza Plate! For a while now customers have been asking for a smaller alternative to our extremely popular 12.5" pizza plates. You asked, we listened. Coming soon...
"Thank you" to all our Customers — January 2015
Thanks to our fantastic customers, in 2014 we saved 15.5 tonnes of Virgin Material and potential Landfill Waste through sales of our Biodegradable Plates & Bowls alone. We can't wait to beat these stats in 2015...
Biodegradable Catering Extras — July 2014
We are now supplying a variety of eco-friendly "extras" to help make your catering operation even more sustainable! Check out our fantastic 100% biodegradable food prep gloves and compostable bin bags which can all be disposed of along with your compostable food waste.
Order BRANDED Napkins Online — 15th October 2013
You can now place your order for branded napkins online. We can offer up to a 3 colour print on our recycled napkins with delivery in just 5 weeks! Did you know we can offer branding on many of our other eco products too? Just email us or call 01803 29 09 71 to discuss your requirements.
TESTIMONIALS
"Boy you guys are good! Got everything and it all looks great!".
Ms Alfin, London
27/10/2015
"I am retiring and would like to thank you for your excellent service over the years. Highly recommended".
Ms Fellowes, Pontyclun
17/12/2014
"Can't speak highly enough of the customer service from Green Gate. I will certainly be ordering again".
Ms Peacey, Wirksworth
24/06/2014
"Delivery was very fast indeed and the customer service second to none. I have now found my packaging supplier!".
Ms Philp, Bolton
11/02/2014
---